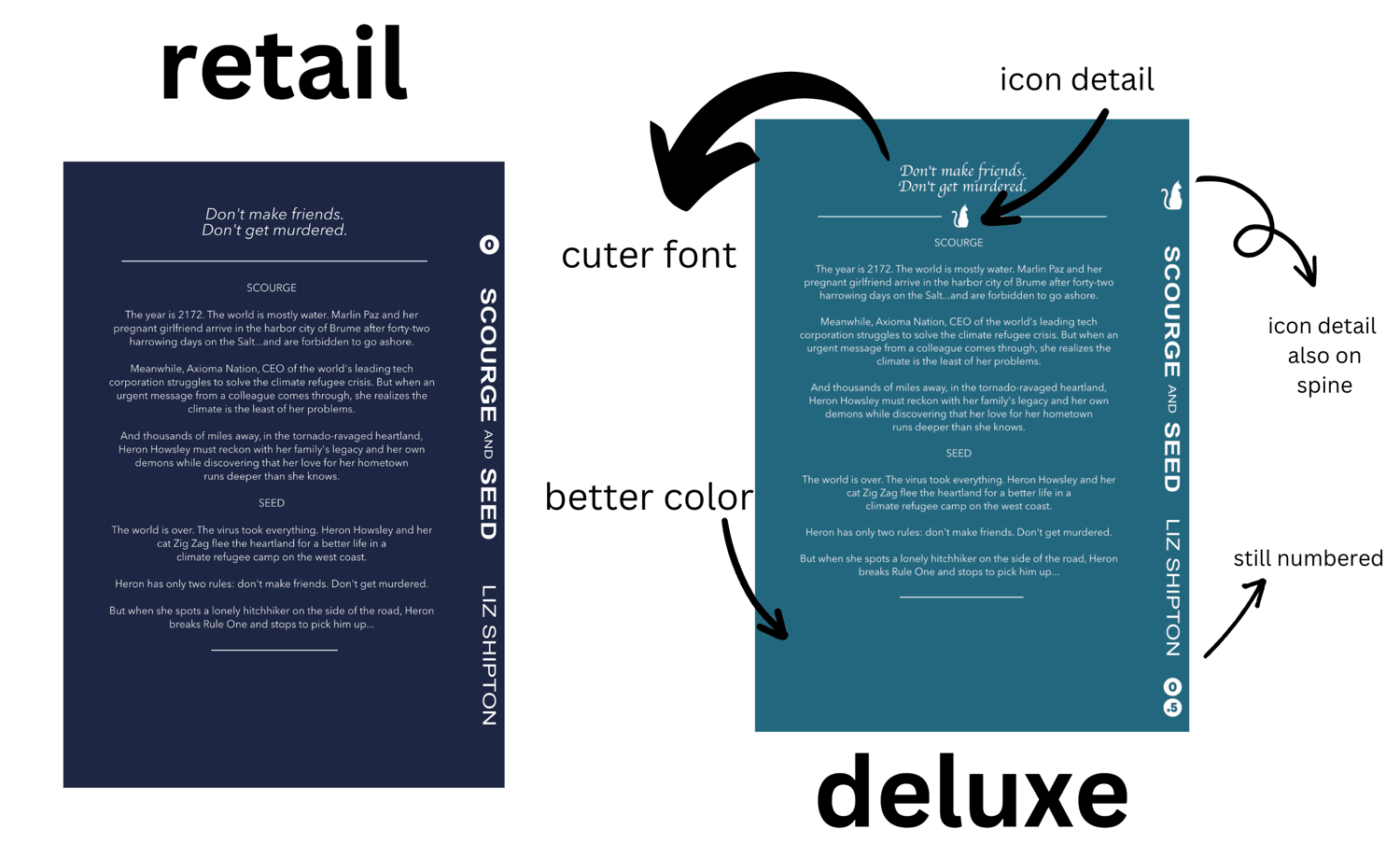 Scourge and Seed Paperback (Spicy Edition)
THIS BOOK CONTAINS SCENES DEPICTING EXPLICIT SEXUAL ACTIVITY.
If you would prefer a version without explicit scenes, check out the YA edition.
Two prequel novellas to the Thalassic Series in one double-edition paperback.
Scourge (Book Zero)
They sailed a thousand miles...and were forbidden to come ashore.
The year is 2172. The world is mostly water. Marlin Paz and her pregnant girlfriend arrive in the harbor city of Brume after forty-two harrowing days at sea only to find themselves forbidden to go ashore.
Meanwhile, Axioma Nation, CEO of the world's leading corporation, struggles to solve the climate refugee crisis. But when an urgent message from a colleague overseas comes through, Axioma realizes that the climate is the least of her worries.
And thousands of miles away, in the ravaged heartland of the State, Heron Howsley must reckon with her family's legacy and her own demons while facing down tornados and discovering that her love for her hometown runs deeper than she knew...
Seed (Book 0.5)
Don't make friends. Don't get murdered.
The world is over. The virus took everything. Heron Howsley and her cat Zig Zag flee the tornado-ravaged Alley for a climate refugee camp on the West Coast.
Heron has a hole in her heart the size and shape of the love she just lost, and she has only two rules: don't make friends, don't get murdered.
But when she spots a lonely hitchhiker on the side of the road, she breaks Rule One and stops to pick him up.
That act sparks a chain of events that forces Heron to reconcile with demons both old and new: the past she thought she'd left behind, the sister she thought was dead, and the future she may not be a part of.
Deluxe edition** includes:
special back cover and spine details
world map
layout of Panga's top deck and interior
author notes
** Deluxe editions are exclusively available from my bookshop and cannot be found on Amazon or other retail sites.
Printing takes about 10 days. Arrives in approximately 2 weeks.